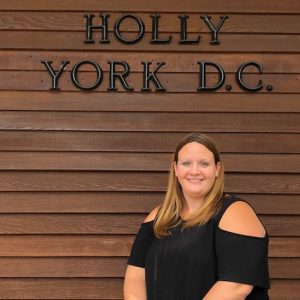 Dr. Holly York is a 2003 graduate of Ferris State University with a bachelors degree in applied biology. She then went on to National University of Health Sciences (NUHS). There she earned a second bachelors in human biology and a doctorate in Chiropractic. She graduated in 2007.
She is advanced proficiency rated in the Activator Method. The activator method uses a handheld instrument that allows the most specific and thorough adjustment. She has been in practice since 2008 and looks forward to serving your chiropractic needs.
When she is not in the office, Dr. Holly enjoys spending quality time with her husband, Aaron, and her three children: Zoey, Carter, and Aspen.