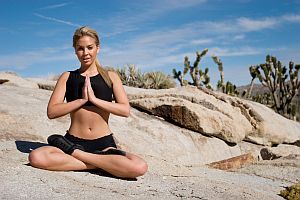 Researchers have found in study after study that meditation can offer both mental and physical health benefits. Doctors of Chiropractic, other physicians and integrative health programs increasingly prescribe meditation techniques alongside traditional treatments to achieve a wide range of health goals, from increasing immunity to lowering high blood pressure and reducing the symptoms of irritable bowel syndrome. On the surface of things, meditation would seem to offer a variety of benefits-if it actually works.  After all, it's non-invasive, drug-free, and costs nothing. So how effective is it?
Approximately 500 clinical trials have been performed on the health effects of meditation, of which about 40 have been long-term studies. Short-term studies have found that meditation may reduce the risk of Alzheimer's, and that it improves memory and general cognitive functioning.
Of the long-term studies, a nine-year study of African-Americans with heart disease found that those who regularly practiced Transcendental Meditation (TM) twice a day had a 48% lower risk of stroke, heart attack or death than those who had only receive health education. They reported significantly less stress and had 5mmHg lower systolic blood pressure.
Two studies from Ohio State University found that meditation was effective against cancer. The first showed that breast cancer survivors had a lower recurrence of the disease with the daily practice of relaxation meditation. The second found that meditation increased the elderly subjects' "killer cells," providing more resistance to viruses and tumors.
Meditation has also been found to cause epigenetic changes by helping to maintain telomere length. Telomeres are the protective sheaths at the ends of our chromosomes, which become shorter as we age, increasing the risk of dementia, heart disease and cancer. A study published in the International Journal of Geriatric Psychiatry showed a 43% greater increase in activity of the enzyme that regulates telomere length in those who meditated as opposed to those who just listened to relaxing music.
Those suffering from irritable bowel syndrome will be glad to learn that meditating twice daily can significantly reduce symptoms of constipation, bloating and diarrhea. It has also been shown to reduce depression and impart a general sense of calm.
Scientists believe that one of the major benefits of meditation is that it lowers stress. Stress causes the release of hormones such as cortisol, which stimulates the "fight or flight" response, increasing blood pressure and stress on the arterial walls. Although one of the roles of cortisol is to control inflammation in the body, with prolonged exposure to it (which is what happens with chronic stress), the body eventually becomes unresponsive to the hormone. Despite the adrenals pumping out more cortisol to try to keep up, inflammation continues to increase. By lowering stress, inflammation is reduced throughout the body, resulting in a reduction in the symptoms of chronic disease.
The practice of meditation is a simple one that anyone can perform once or twice a day for 10-15 minutes sessions. Sit comfortably cross-legged on the floor or in a chair with your feet flat on the floor and your spine straight. With eyes open or closed, simply bring your attention to your breath and notice it as it comes in and goes out. When your mind begins to wander (which it always will), just bring your attention back to the breath. Some find it useful to focus on each part of the body, mentally relaxing each muscle as you focus on it.
While there's growing awareness among the general public that meditation can significantly improve people's quality of life, there's also plenty of evidence that meditation can offer specific physical and mental health benefits. If you're interested in learning more, we encourage you to call or visit our office!